My personal blog is over its bandwidth (I REALLY need to take care of this issue!) and there are a few Halloween related things I wanted to post this week over there so instead I'm going to bore all of you with them! I know you pop in here to see cute babies or families so feel free to skip past the few Halloween posts if you'd like!
The ONLY reason I'm posting this is because I'm so damn proud of it! HA! For the first time in over 5 years we have a mantle but also for the first time we have a huge tv hanging above it which is proving quite difficult to decorate around! I've been dreaming about decorating a mantle for so long the tv is really hindering me! Not that I'm complaining the fact that we were finally able to get rid of our 19in TVs we took to college, just that the only place for it to fit in our tiny house was above the fireplace.
So I pondered Halloween swag for a while and came up with something I love…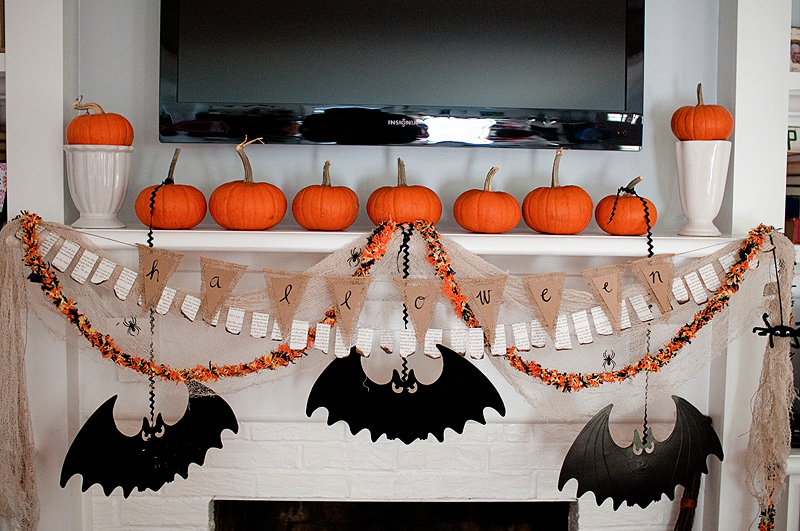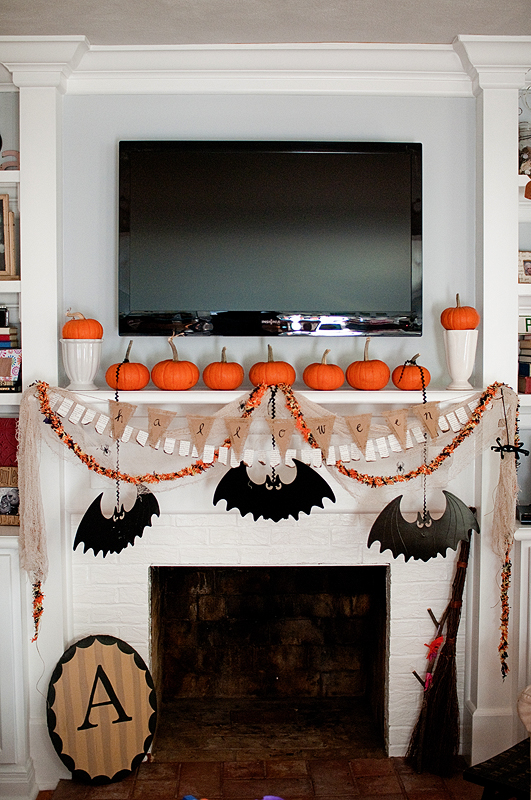 Let me break it down…
The pumpkins were $1.50 each from our local pumpkin patch, I had the two white vases, the "old" fabric hanging in the back I bought at Walgreens for $3.99, the orange/black/yellow garland was a hand-me-down from my mom who didn't want it anymore, the "Halloween" bunting I made and I also made the book page bunting. The bats hung in my house when I was a kid so they're about 30 years old and I LOVE them. They are tied to pumpkins with black rickrack. Rickrack is an obsession of mine that's almost as strong as my obsession with ModPodge. Almost.
For the Halloween bunting all I did was take leftover burlap and cut it into triangles, threaded the twine through the top, cut smaller triangles out of craft paper, painted the word Halloween with black acrylic paint and then glued the paper to the burlap. SUPER simple and all done while my kids played at home sick last week.
For the book bunting I literally just cut strips out of an old children's Bible that was my mom's (it was missing pages and headed to the recycle bin when I grabbed it), burned the bottom of each strip and then folded the top to glue it on some twine. Again, super simple but the burned paper was kind of messy. I sat in front of the fireplace to do the burning, you know, just in case!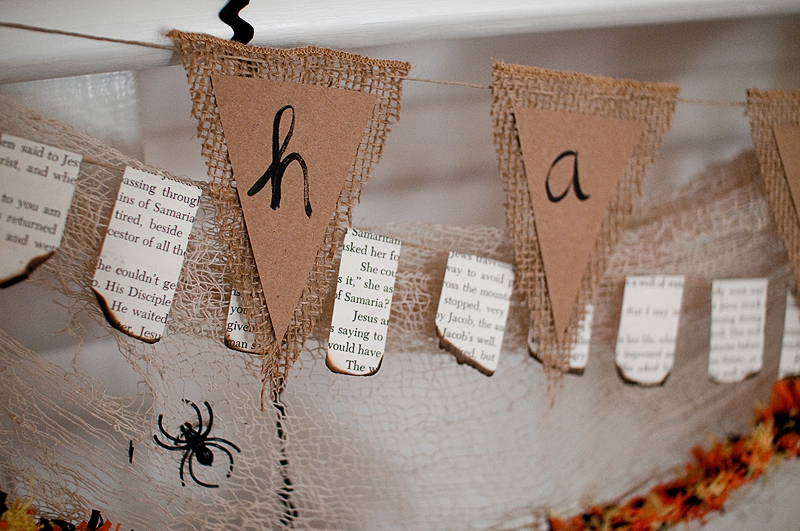 Oh and just for fun I stuck in a few spider rings I bought at Target. They just are hanging in the "old" fabric!
Super easy but so fun… it makes me happy when I walk in the door each day!
OH and see that stick broom? I bought it at the grocery store and it smells like cinnamon! Seriously the most amazing smell ever!
Happy mantle decorating!